Home page
Photos from primary election night
Campaign announcement and biography

We did it! We're halfway there. Let's finish the job on Nov. 2.
I'm humbled that the primary election ranked me as the top vote-getter among the five Republican commissioner candidates.
Clearly a majority of you throughout Warren County agree: Status quo just isn't good enough. The people are ready for a change in leadership.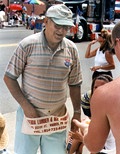 Now on to the November general election.
So many of you were generous through financial contributions, staffing the phone force, sporting a button or putting a sign in your yard. The work is not over yet.


John and his brother Jim are all smiles as they watch the tally at the courthouse on primary election night. Click here for more photos.

And to my Democrat and Independent friends, I hope you'll give me your support.

Throughout the summer and fall I've had the pleasure of talking with many of you at events throughout the county. Thank you again for your kind words, suggestions and support.

Don't forget to vote on Tuesday, Nov. 2. Polls are open from 7 a.m. to 8 p.m.






---

For Web site bug reports/comments, contact zavinski@pgh.net

Paid for by People for John Zavinski
P.O. Box 1343, Warren, Pa. 16365

Sara Mae Sanford, treasurer