Home page
Campaign announcement and biography
Letter to voters
To the Voters of Warren County:
Many of you are aware that I have filed a petition to seek the nomination for County Commissioner on the Republican ticket. The decision to enter the race was not taken lightly. Warren County residents should have serious concerns about the future. What the 2lst century will have in store is unknown. If Warren County is to prosper and compete in the worldwide marketplace, many important decisions will have to be made, and these decisions will profoundly affect everyone in the County.
To improve and expand the present business climate, we must enhance the economy of Warren County, preserve existing jobs and be proactive in bringing in new business wherever it is feasible. Status quo just isn't good enough.
I have served this area in the business and financial arena for more than forty-five years. My experience in both the private and political sector qualifies me to assist in making sound, prudent decisions -- decisions that will shape the future of this region for many years to come.
There are many positive signs of well being in the county, but it takes foresight, good judgment and determination to achieve any goal. I bring to the citizens of Warren County a positive attitude and the experience to make tough decisions that will enable each and every resident to to feel secure in the belief that we will not be left out of the 2lst century.
Your input, financial support and vote would be most appreciated. With your help, we can make Warren County a better place for all of us to live and work.
Sincerely,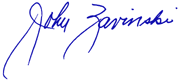 Make checks payable to "People for John Zavinski"
P.O. Box 1343, Warren, Pa. 16365
---

For Web site bug reports/comments, contact zavinski@pgh.net

Paid for by People for John Zavinski
P.O. Box 1343, Warren, Pa. 16365

Sara Mae Sanford, treasurer