My adventures in curling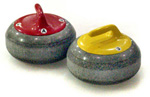 A longtime fascination with the quirky sport of curling -- particularly during the past couple Winter Olympics -- inspired me during the 2010 games to see whether there were any nearby clubs. Next thing I know I was among hundreds of like-minded curiosity-seekers stepping onto the ice with the Pittsburgh Curling Club.

I fell flat on my face in my first attempt at throwing a rock. I parlayed the experience into a photo and story package for The Herald. And I realized I could get into this.

Fast forward to today: I got into this.

I joined up in the fall of 2010 as a full member, part of the four-person Team Temple. It took me weeks to get the hang of it, but over time with lots of guidance from fellow players, it finally clicked.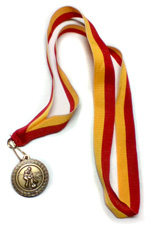 After some ups and downs throughout the winter season, the team found ourselves in the bottom, D League for the playoffs but won the championship for that division. Even got a gold-ish medal, shown here life-size (and no, everybody doesn't get a medal).

The PCC is one of only 3 in Pennsylvania, with a couple in the Cleveland area being a little farther away. The drawback for me is that we only get ice time on a Saturday evenings, making Marsha a curling widow (much to her chagrin). And it's a 65-mile, hour-ten drive each way. That's about 3,000 miles on the Mazda6 just in the first season.

Oh, and on nights with late games when players adjourn to the bowling alley bar across the street, it means pulling into my driveway just before 3 a.m. Sunday.

But -- as someone who cherishes warm summer days and twilight evenings on my deck -- I finally have a reason not to hate the onset of winter. In fact, spring was almost sad, because the melting of snow also meant the melting of our rink ice. Sigh.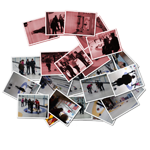 » Curling pictures from the Rochester Friendly bonspiel April 2, 2011 (I took them and am not in them).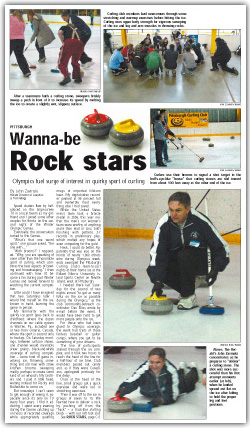 » Read my March 7, 2010, curling story(pdf 3.4MB)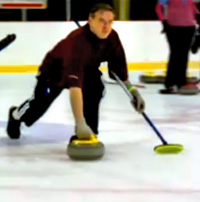 » Video of me throwing a rock (with lousy form) during the March 2011 PCC D Division championship game, which we won, and me sweeping the final rock of the game.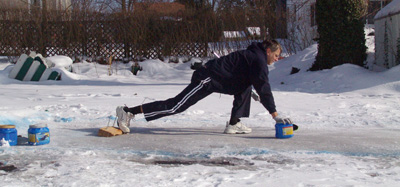 » Driveway curling can be a great way to get a little extra ice time when you need the practice.